Sign up to Wool.com and create your own personal wool hub.
Merino swim shorts make a splash across the world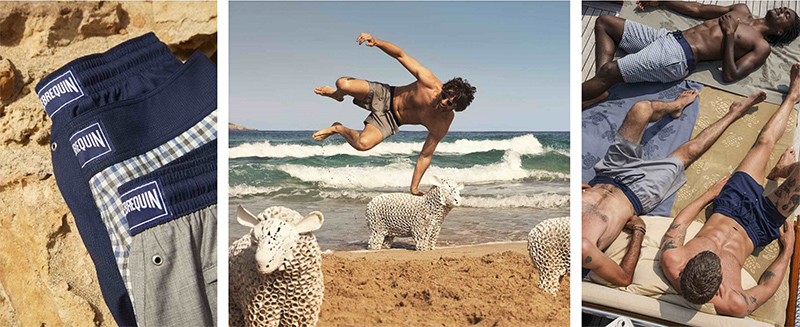 Marketing collateral from French brand Vilebrequin showcasing its new set of swim shorts made from Merino wool.
For the first time, iconic French swimwear brand Vilebrequin has incorporated Merino wool into its range, launching a set of three Merino wool swim shorts ready for the northern hemisphere summer, in partnership with The Woolmark Company.
Of all the places you'd expect to find Merino wool, the beach is probably the last. But in its pursuit of finding new markets for Australian wool, AWI subsidiary The Woolmark Company has teamed up with Vilebrequin to launch a set of Woolmark-certified swim shorts.
Vilebrequin is a French luxury brand specialising in swimwear and ready-to-wear for men and women. The brand is a product of the joy, freedom and seductive charm of Saint-Tropez on the French Riviera in the 1970s, where it opened its first store in 1971. Today, the brand has a global presence in more than 62 countries.
Fusing its 50+ years of tailoring know-how with an endless flair for experimenting, Vilebrequin has created the innovative Merino wool swim shorts for men, drawing on traditional suiting methods for everything from weaving to pattern cutting and pocket placement.
Vilebrequin played with the idea of a 'suit made for swimming', letting the quality and technical attributes of Woolmark-certified Super 120's Merino wool from REDA's Active collection really shine through.
"By partnering with Vilebrequin, we are helping bring the sophistication of worsted tailoring to a new market for Australian wool."
John Roberts, AWI CEO
Eco and performance qualities
While driven by innovation and drawn to Merino wool's performance qualities, Vilebrequin also prioritises sustainability and was attracted to the natural, renewable and biodegradable properties of the wool. Being a swimwear company, Vilebrequin was particularly impressed that wool does not contribute to microplastic pollution of the oceans.
"Merino wool is a real source of eco-innovation, and perfectly in line with Vilebrequin's target to create 80% of collections using exclusively sustainable fabrics and processes by 2023," said Vilebrequin CEO, Roland Herlory.
The shorts are not only perfect for being in the water. After swimming, the shorts can dry quickly in 5 to 7 minutes, which according to Vilebrequin is much quicker than the target level. And while simply relaxing at the beach, the ultra-breathable, thermo-regulating and UV resistant properties of Merino wool keep the wear comfortable under the sun.
"Partnering with The Woolmark Company has introduced us to cutting-edge techniques that reduce our impact on the planet while delivering a uniquely elegant product. We feel confident our clients will appreciate its remarkable quality and the naturally chic way it hangs on the body."
Roland Herlory, Vilebrequin CEO
Marketing with a global reach
The new shorts were launched online and in store during April, with 52 Vilbrequin international store windows showcasing the product for a two-week period. The product was also promoted at leading French department stores. Marketing also included digital and social campaigns across Vilebrequin and The Woolmark Company channels, with special events held by Vilbrequin in Paris, London and Santa Monica.
Since 2012, Vilebrequin has been owned by the US clothing company G-III Apparel Group, which owns and licenses a diverse portfolio of more than 30 globally recognised heritage and emerging fashion brands including DKNY, Karl Lagerfeld Paris, Calvin Klein, Tommy Hilfiger and Levi's.
More information:
www.vilebrequin.com/eu/en/woolmark-vilebrequin
This article appeared in the June 2022 edition of AWI's Beyond the Bale magazine. Reproduction of the article is encouraged.